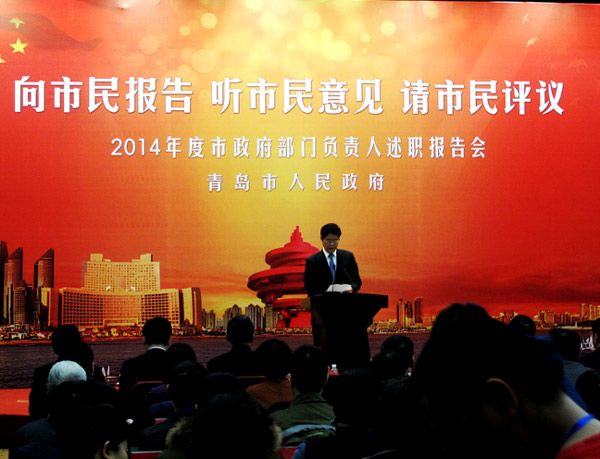 Member of Qingdao government reports on his work at a conference in Qingdao city, Shandong province. [Photo/chinadaily.com.cn]
Clean energy is expected to cover 57 percent of the city's heating networks by 2020 in Qingdao, according to a local official at the municipal government's public presentation on their performance last weekend.
"We will actively power our in heat pumps by air, sewage, sea water and ground sources, so as to reduce carbon emissions and protect the clean air and clear blue sky of Qingdao," said Guo Jishan, director general at the Qingdao Municipal Engineering and Public Utility Bureau.
The coal consumption for heating has reduced by 23 thousand tons this year and clean energy covers 2 million square meters of heating networks. By 2020, coal consumption for heating will be reduced by 300,000 tons, said Guo, citing the 51 government departments who broadcast their intentions live on TV, radio and the Internet.
In the meantime, about 10,000 residents participated in four live sessions to review and grade officials on their performance, as well as submitting their comments and suggestions.
As Chinese President Xi Jinping and US President Obama announced their landmark plan last month to cut CO2 emissions over the next two decades, environmental protection also became a hot topic at the performance review conference in Qingdao.
According to the Environmental Protection and Energy Preservation Development Plan announced by the local environmental bureau, non-fossil fuel must account for over 2 percent of the city's overall primary energy sources.
The city will also renovate old buildings covering 50 million square meters with thermal insulation materials which could save up to a million tons of coal.
As the economy is the fundamental factor for environmental protection, Qingdao has set targets for the service sector and emerging industry to grow and account for 52 percent and 15 percent of the city's general domestic products and its environment related industries will generate total revenue of 100 billion yuan ($16.1 billion) by the end of 2015.
Highlights at the two days performance review also include administration service reform, educational resources enhancement, a curb in government vehicle expenses and medical care.
Bian Jianping, director at the general office of Qingdao Municipal Government, said the city is building a shared database which to be complete next year for administrative document review.
The database will enable every government department to save individual's or enterprises' application documents and certificates, so that when applicants go to other departments to review the same matter, officials can pull out the electronic version so as to reduce red tape for applicants.
To enhance services, all the department heads have to work in the Qingdao Administrative Review and Approval Service Hall for at least half day per month and their division chiefs need to work there one day per month. This practice is the first of its kind in China, said Bian.
The education bureau announced their plan to expand or renovate 1,909 schools including kindergartens, elementary and middle schools by 2020. A total of 19 schools have been completed this year.
In 2014, government expenses on vehicles, receptions and overseas trips have dropped 10% percent compared with a year earlier, while next year, they will focus on reduction in car usage in a bid to build a clean and financially efficient government, according to Zhou An, director at the Qingdao Finance Bureau.
While the government has spent less money on official travel and banquets, public expenditure on citizens'medical care jumped by a whopping 70 percent in 2014, said Zhou An.
This year, the department of health has finished integrating different systems of medical care for urban citizens and farmers, so that farmers could enjoy the same benefits as urban citizens do.
After reforms in the city center, hospitals in three county level cities of Qingdao, including Jiaozhou, Laixi and Pingdu, also started implementing the policy of selling medicine with no profits, saving 184 million yuan for patients in 2014.