The 4th National Aerobics Dance Contest Final took place in Qingdao, Shandong province, late September, with more than 6,000 fans of aerobics and dance across the country taking part.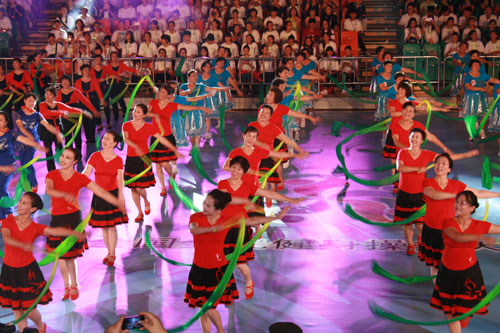 Square dancing is performed at the 4th National Aerobics Dance Contest Final, which is held from Sept 15 to 21 in Qingdao, East China's Shandong province. [Photo by Hu Qing]
The participants of this year's contest ranged from young children to the elderly, some of whom with professional dance background.
Citizens' fitness was underlined in the national strategy and aerobics and similar activities serve as an important way to gain fitness, said Luo Chaoyi, an official in charge of gymnastics sports at the General Administration of Sports of China.
He added that one of the ways to attract masses to fitness activities is through enhancing artistry of the practice and, therefore, dancing singles out as one of the areas to ensure it.
Chinese square dancing, for instance, is a popular community activity among Chinese people, especially those elderly female retirees, despite the activity has been subject to much debate recently.
This year's contest included four sub-categories of square dancing open to public participation.
"All square dancing lovers and fans are welcome to attend the contest," said Wang Youping, executive director of the competition committee of the contest.